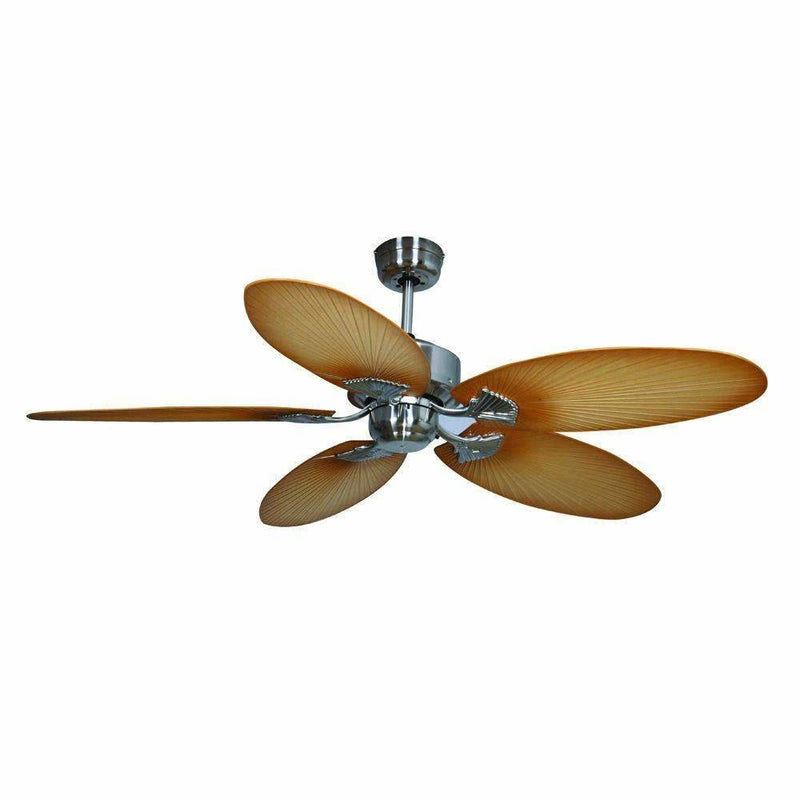 Do you have your perfect swimsuit picked out? No? Neither. It's okay. 
With the Kewarra Ceiling Fan, you don't need to be ready for eyeballs to be peeping your bathers at the beach. Bring the beach to you, that's the solution we've come up with.
Short of filling your home with sand and/or crabs and seagulls, we thought this fan would be a great middle ground. 
It comes in brushed chrome or oil rubbed bronze - that's right, oil rubbed! You can't get much more beach-y than that. 
But of course, the Kewarra fan is one step ahead of you, again! The blades are reminiscent of palm fronds. Instead of the dirty feeling you'd have from having some poor person manually fan you with a frond all day, just lie down underneath this fan and enjoy a similar experience, guilt-free! 

Product specifications: 


Colour/finish option 
Brushed chrome or 
Oil rubbed bronze  
Blade size 

1300mm(52") ABS blades 

Blade pitch 
14º 
Voltage 
230-240V 
Input frequency 
50Hz 
Motor power rating 
60W (maximum) 
Lamp power rating 
4x 60W (maximum) 
Net Weight 
9.1kg (10kg gross weight) 
Energy saving settings 
Summer/Winter settings 
Warranty 
2 year in home warranty 
5 year motor warranty 
Weather rating 
Tropically rated 
Assembly required 
No. Comes pre-assembled 
Speed settings 
3-speed 
Controls 
Light switch (included) 
Remote control adaptable (sold separately) 
Returns Policy
Crystal Palace Lighting offers a refund for change of mind for those purchases. For ANY returns within the 7-day policy: - Subject to approval and in conjunction with conditions above, if requested, a refund will be given (less amount for freight) for change of mind. Exchanges welcome. Customer is liable for any extra costs associated with exchanging a product.made either online or in-store within 7 days of receiving the product.